FontanaArte lamps and lighting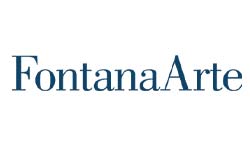 FontanaArte lamps
are an example of made-in-Italy creativity and innovation. Soft, warm lines characterise lamps that manage to kindle emotions and create a precise, correct balance between man's light and darkness requirements.
Subcategories
See all subcategories
Fontana Arte designer lighting
Fontana Arte is a high-end design lamp company that has its origins in Italy. The company was founded in the early 1930s by Gio Ponti and other designers and has since become famous for its innovative and elegant lamps. In recent years, Fontana Arte has continued to push boundaries with new creations.
Find out now:
Fontana Arte famous lamps
Which are the most famous Fontana Arte lamps?
Designer lamps don't just provide light, they can also be beautiful works of art. And this is exactly what you will find with Fontana Arte lamps. These lamps of Italian production are characterized by their soft and warm lines and their ability to create the perfect balance between light and dark. Behind the success of Fontana Arte there are names such as Gio Ponti and Gae Aulenti, as well as design icons such as the Bilia table lamp. Fontana Arte also offers two famous glass creations: the Bianca family of lamps and the extraordinary Bolla suspension lamp. These pieces are perfect for those who want to bring a little Italian luxury into their home decor. Fontana Arte is the first Italian company to have established itself in the world of design lighting, and it has done so with some of the most iconic lamps in circulation. The Fontana lamp is one of the most famous and the Uovo lamp, with its diffuser made with a modern rotational molding, is another. But Fontana Arte does not rely only on iconic design. Designed by Stefano Boeri, the lamp has a diffuser in four different finishes: transparent and striped, sandblasted, copper or smoked. Whatever your style, you will surely find a Fontana Arte lamp that's right for you. And with a history of excellence in design and craftsmanship, you know you have a quality product that will last over time.
Fontana Arte suspension lamps
FontanaArte chandeliers are a combination of elegance, creativity and Italian style. They are ideal for enhancing a full-height room, stairwells or modern lofts with their refined design.
Fontana Arte table lamps
Fontana Arte table lamps are suitable for different uses and adapt to different styles. They are perfect as desk lights for a home office, or as decorative furnishing accessories paired with a coffee table.
Fontana Arte floor lamps
The design floor lamps by Fontana Arte are ideal to be placed in the living room, in a hall, in the bedroom and even in the dining room. They are particularly suitable for enhancing large spaces, for example the open space of an office.
Fontana Arte wall lamps
In the living room, in the hall, in the bathroom or bedroom, for a home or a hotel, FontanaArte wall lamps enhance any context and illuminate it gracefully.
15%

15%

15%
Fontana Arte ceiling lamps
The light from above enhances the furniture and is also functional, for example, above a worktop. Geometric and essential, available in various shapes, the ceiling lamps by Fontana Arte have satisfied all tastes and needs since 1932.
FontanaArte lighting online shop: discover the offers and discounts on LampCommerce. Shipping to the UK!
We are official resellers of FontanaArte lamps: discover the many offers we offer for the online purchase of FontanaArte chandeliers and lamps at discounted prices.